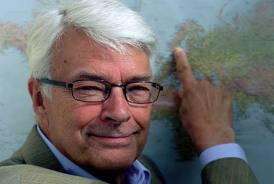 .. är titeln på ett inlägg som Maggie Thauersköld Crusell skrivit på sin nya blogg optimism.nu. Maggie höll tidigare i bloggen The Climate Scam som närmast kan liknas vid en svensk Tea Party-rörelse i klimatfrågor. Det är inte ofta (aldrig..) som jag sett något inlägg där som fått mig att jubla. Därför är det extra roligt att läsa något av Maggie som jag i princip kunde skrivit själv (fast jag hade ändrat Tällberg till Bo Ekman i titeln..).
Bakgrunden till inlägget är att DN har publicerat en debattartikel av Bo Ekman (grundare av Tällberg foundation) som är svårslagen i sitt ordskvätteri, helt utan något tydligt mål eller mening. Att Ekman är teknikoptimistisk och att han inte ser att nationalstater har en så stor roll att spela i framtiden är väl i stort sett det enda som jag kan få ut av artikeln. Förklaringar eller fakta lyser med sin frånvaro.
Senast Bo Ekman var inne och surrade på DNs debattsida så höll det lika låg nivå. Skillnaden då var att det fanns ett tydligt budskap – tillväxt är lösningen på alla våra problem. Jag skrev ett inlägg, där jag visade hur substanslösa hans argument var.
Den gången tyckte The Climate Scam att Bo Ekmans artikel "andades en viss tillnyktring"..